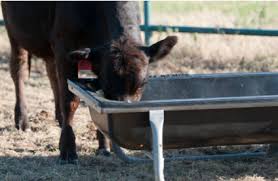 A cattle drinking monitoring system invented by Four Winds Farm staff has been used for more than one year with great success. This device consists of a monitoring host and several water level sensors. The monitoring host includes a global system for mobile communication (GSM) to transmit information on water shortage or water availability to the farmer's mobile phone via SMS.
The water level sensor is installed with a water level testing switch and an ultradistant radio transmitter. The water level testing switch is placed into the water tank or the water tower, and the water level sensor is waterproof and installed in the water tank or beside the water tower. In case of a fault in the water supply system or water shortage in the tank, the water level switch transmits the signal to the water level sensor, which transmits the signal to the monitoring host via radio. The water level sensor is powered by one 3.6V battery with a service life of three to five years.
One monitoring host monitors 99 water level sensors. The monitoring host transmits information via radio. The effective communication distance between them is approximately 10km. If the monitoring host is installed in the farmer's workshop, the water level sensors are installed in a circular radius of 10 km.
The device reduces time spent to observe water levels. The farmer can still get watershortage information with no one on the farm. Four Winds Farm is open to anyone wanting to see it in practise. For more information email aa0449615225@163.com.