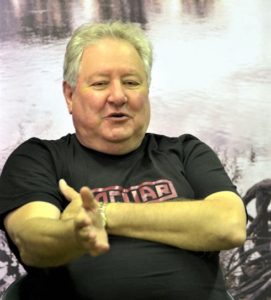 An acclaimed Australian actor will be appearing in a mental health play in Tullamore in November. Tullamore Inc and Parkes Shire Council will host Gold Logie Award-winner John Wood as the leading actor in Carpe Diem at the Tullamore War Memorial Hall on 3rd November.
Supported by Chris Pidd, Carpe Diem is a contemporary portrayal of Australian males, dealing with issues of health, grief, loss and depression. Set in a fictional town, the play portrays the friendship of Nev, a hard-working farmer, and John his stock agent friend. Both have been impacted by the long running drought and are each suffering their own personal crisis.
Carpe Diem is a didactic comedy that delivers mental health messages in an entertaining, immediate and highly relevant way. It stresses the importance of mateship and professional care in times of crises. "It's a very Australian thing (not just male, necessarily) to feel that it's none of our business and that someone knows what they're doing," said John. "But men need to ask the questions and not ignore their apparent depression or inner pain."
The play will be followed by a Q&A and meet and greet with the actors. Tickets are $20, available at Casho's Café, 123tix.com.au and at the door. BBQ dinner from 6.30pm. For all enquiries call Megan 0478 438 052.