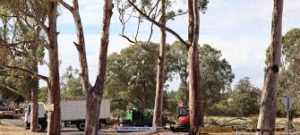 As part of the Parkes Cemetery Tree Replacement project, 100 per cent of the eleven trees removed from the cemetery entrance will be repurposed for environmental sustainability projects. Following a severe storm in November 2016, Council commissioned a consulting arborist to inspect the trees. The arborist determined that the trees must be removed due to their deteriorating condition, which posed a risk to visitors of the cemetery.
Parkes Shire Council's Environmental and Sustainability Coordinator, Michael Chambers said "while we are sad to see the old eucalypts removed from the cemetery, it is fantastic that we are able to use all eleven of the trees for a range of other environmental projects throughout the Parkes Shire."
"The leaves and smaller branches will be turned into mulch for re-vegetation and general Parks and Gardens use." "The larger branches and main trunks will be stock piled off site and used in future rehabilitation projects, including the rehabilitation of the old Sewage Treatment Plant effluent ponds into a wetlands habitat. The eucalypts will create the perfect habitat for water birds, turtles, yabbies and other native fauna."
Last year, Council successfully repurposed several trees removed from Kelly Reserve by installing them as habitat in PAC Park. Council will remove the declining trees lining the cemetery entrance, totally rehabilitate the site and replace with a smaller deciduous tree species, as well as install irrigation, construct kerb and guttering along the internal road, and install a new footpath.
The Parkes Cemetery Tree Replacement Strategy is available for download from Council's website, www.parkes.nsw.gov.au.