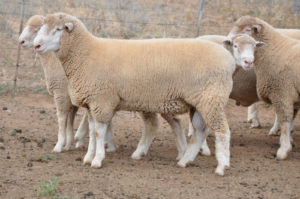 Ridgehaven Poll Dorsets is a family run stud operation based at Cudal, and aims to produce rams with genetics that assist lamb producers to be more efficient and profitable. With a balanced approach to its breeding program, visual assessment and performance data are used to deliver consistent high quality rams. The sale is on Thursday, 13th September, with a delicious barbeque lunch provided.
Red Hill Australian White Stud will hold its fourth on property sale on 14th September in conjunction with Ardess Australian White Stud.
Red Hill and Ardess continue to be impressed by this resilient breed and the past 18 months of extended dry periods have proven this. "At last we are seeing a unique breed of sheep that meets Australian market requirements and is suited for varying Australian conditions," said the principals of Red Hill.
They bought embryos from Tattykeel, Oberon in 2011 and joined Australian white rams to their large self-replacing commercial flock of white dorper ewes. The difference in the lambs was immediate, producing progeny with increased size and strong growth rates.
At Red Hill, Robert and Leanne are committed to breeding Australian white sheep that produce a very marketable lamb with excellent growth rates, stud rams and ewes with strong conformation, hair pattern, black points and good temperament while always maintaining that quality matters.