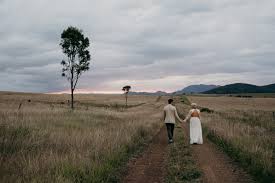 How To Get Your Dream Honeymoon
Wouldn't you rather go on a perfect honeymoon than receive a 4-slice toaster or a rubber-backed tartan travel rug? With the Helloworld Travel Bridal Registry, your family and friends can contribute towards the cost of your honeymoon, as their wedding gift to you. Helloworld Travel will help you choose your dream location and take care of all your travel needs. Your wedding guests then make contributions in your honour towards your honeymoon. We even supply cards to go out with your wedding invitations. It is this easy to turn your honeymoon dream into a reality.
Wedding Away is another great service that Helloworld Travel Forbes offers. The friendly staff at Helloworld Travel Forbes can organise your wedding in a special location and take care of all the travel and accommodation for your entire wedding party and guests. Talk to one of the professional consultants and start planning today.
A Special Day With A Civil Celebrant
Why not use a civil marriage celebrant to make your day special? Narelle Page Civil Celebrant is based in Parkes. Narelle specialises in all weddings, commitment ceremonies, renewal of vows and baby naming ceremonies. Narelle brings a strong sense of individualism to your special day to create a comfortable, interpersonal and memorable occasion for yourself and your guests. Why not choose to start your perfect day with a special ceremony by Narelle Page, Authorised Celebrant. For Bookings or any enquiries, contact Narelle on 0429 177 747 or email narellepagecelebrant@gmail.com
Unique And Contemporary Reception
The Parkes Services Club is proud to offer a unique and contemporary wedding reception venue for couples in the Central West of NSW. The club's wedding packages are designed to make each wedding a memorable one and can be tailored to suit the bride and groom. A dedicated team is on hand to ensure everything runs to plan, not only on the day but in the lead up to the event. It is incredibly important for the bride and groom to feel confident knowing their wedding reception is in excellent hands. Call the club today to discuss your options.
Flowers Tailored To Your Taste
Organising your wedding flowers should be a wonderful and exciting experience. The flowers chosen show your style and personality. This could be anything from a classic floral design of round crisp roses, to a natural loose organic design of natives. Or why not make a statement and choose something outside the box with bright colourful flowers. At Ivy Lane, owner Jade will sit down and discuss all your wedding flower requirements with you and work with you
every step of the way to ensure your flowers are exactly what you want. Options available are bouquets, buttonholes/boutonnieres, corsages, flower crowns, ceremony arrangements, reception arrangements
and table centres.
For The Love Of Flowers
Are you looking for the perfect Florist? Alice and her team at the Pink Orchid in Parkes happily service the entire Central West of NSW. The Pink Orchid team loves creating original and personalised arrangements for every occasion, including weddings!
Choose Hart Bar
"It brings us so much joy to be able to hold special functions like weddings in such a special space," says Kasie of the Hart Bar. "We enjoy working closely with the bride and groom to ensure that we tailor the perfect celebration for them and their family and friends to remember forever." Hart Bar offers the perfect mix of seating and standing for a canapé function of up to 180 guests with the use of the stunning veranda. For a more intimate reception there is the option of up to 70 guests for a two or three course meal seated style reception. If you have a special function coming up get in contact so Kasie can help plan your perfect celebration!
Vintage Inspired Mobile Bar
Vintage and rustic are definitely on trend for weddings and events and what better addition to your event could there be than Joan, the 1950's inspired vintage mobile bar! AuRevoir Vintage Van adds an extra special element to your wedding or event. For the ultimate bar service, visit www.aurevoirvintagevan.com.au.