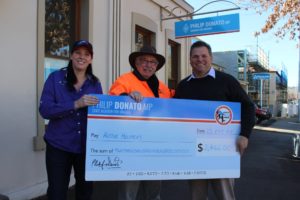 Member for Orange Phil Donato MP has taken the lead to show his support for drought affected farmers by donating the 2.5% pay rise MPs have received to the drought charity Aussie Helpers.
He feels the government have failed to deliver for farmers, and charities are now having to do the work.
"I cannot in good conscience accept a pay rise while farmers, whom I proudly represent, are struggling through the worst drought in over three decades."
He also put out a challenge to all regional and rural based MPs, both state and federal, to donate their pay rise and show their support for farmers and demonstrate leadership, which they were elected to do.
"If government won't provide freight subsidies for fodder, water, and stock to help farmers, the least they can do is open up their wallets," said Phil.
"Politicians received a 2.5% pay rise this year, but I don't think it's fair that we should get a pay rise when farmers are struggling."