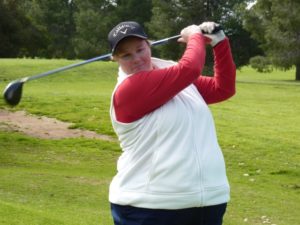 Cherrie Phillips won her maiden singles Ladies Club Championship, sponsored by Ron Dunfords Pharmacy, at the Parkes Golf Club last Sunday. Cherrie, who led after the first three rounds, was forced into a playoff with defending
titleholder, Lynne Guise, after both players finished the 72 hole championship locked together on 366. Lynne forced the playoff when she closed with a solid 92, after Cherrie was leading going into the final 18 holes by three shots.
During the playoff both ladies finished level on 1 over par in the accumulative play after recording bogey 4's on the Par 3, 1st hole and then both fired pars on the Par 5, 2nd Hole and on the difficult Par 4, 9th hole. They were being forced into a sudden death situation and with Cherrie crowned as the 2016 Ladies Champion when she parred the Par 3, 1st hole with Lynne managing a bogey 4.
In the minor grades Colleen Flynn took out the B Grade after finishing six shots clear of Leone Stevenson, while in C Grade junior Kasey Fay-Rice was a close three shot victor over Liz Matthews. One of the clubs most popular events, the annual Pybar Handicap Challenge, will be held this Sunday with the final 19 players facing the starters gun at 9am.
The field of 19 players have been the best performers during the six preliminary rounds. Despite the withdrawal of hot favourite Robert Cheney, the field still has plenty of chances. There are a couple of players who could spring a surprise, including Chris Goodie,Troy Thomson and junior Lachlan Buesnell who finished runner up to Smith last year.
The full field for Sunday's final is Brian L. Hogan, Victor Gaidzionis, Laurie Wakefield, Tony Hendry, Cameron Butler, Colin Barker, Ian Phipps, Lachlan Buesnell, Troy Thomson, David Stevenson, Mitch McGlashan, Garry Phipps, Ross Smith, Matt Lawryk, Peter Magill, Mick Dellaca, Joey Van Opynen, Robert Hey and Chris Goodie with the reserves being Michael Smith and Bernie McCabe.
By Paul Thomas