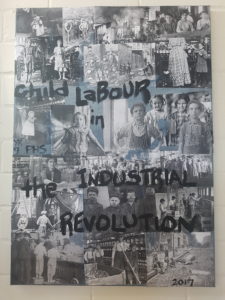 The work of Year 9 students of the Parkes High School will be on display at the Henry Parkes Museum for the next month.
The panels on exhibit are the end result of a study of the Industrial Revolution undertaken by the students as part of their history course.
The Involve Special Program is designed to provide students with a project-based as- pect to their studies. The Year 9 students chose to focus on child labour during the Industrial Revolution as their project. Their research lead to a series of collaborative mixed media collages combining archival images, factual information and personal reactions in the form of creative writing, to the working conditions endured by children during this period.
Parents and family members of the Year 9 students are encouraged to go and see the exhibition of the panels at the Henry Parkes Museum.