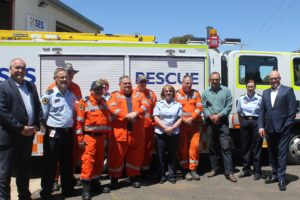 State MP David Elliot wore several different ministerial hats when he visited Parkes on Wednesday, making a number of announcements from his Emergency Services portfolio. This was the Minister's third visit this year. He came to offer support during the Forbes floods, then returned to survey the damage caused by the Parkes storm two
weeks ago. This week David came under happier circumstances, making funding announcements and expressing his gratitude to the selfless helpers in our community.
The minister joined the Parkes SES staff and volunteers over a lunch, before he officially announced an $8,000 equipment grant, as well as the arrival of a new SES rescue truck. The $213,375 truck will make the SES work more efficient and safer. The truck's features include seven specialty lockers with streamlined storage and lighting, ergonomic ladder access on the roof, an inbuilt generator and water tank, and a remote-controlled light-post. The truck's impressively engineered features make it easier to access equipment and mobilise the crew.
Wednesday also saw the official handover of a brand new Rural Fire Service vehicle. The $310,000 truck boasts improved fire-safety features. The cabin is equipped with safety curtains and fire blankets. Retardant spray has been applied to the wheels to prevent them from igniting, and the cabin features monitors and joy-stick capability for remote operation of sprays. Rural Fire Service Superintendent Ken Neville says the new truck will give the crew a better chance if they're caught in a fire.
By Raen Fraser