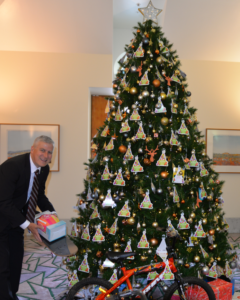 In the midst of the Christmas rush, the shopping bonanza, end of school and the Christmas parties we are easily distracted from the main event – may we never forget the birth of Jesus Christ is the reason for this joyous season.
However you choose to celebrate Christmas and the holiday, whether it be by having a barbecue at Lake Forbes, catching up with mates under the verandahs in Lockhart, picking cherries in Young for the Christmas pav, riding the 5 o'clock wave at Wagga Wagga beach or stopping on the Newell in West Wyalong, I pray that everyone in the Riverina and Central West drives to the conditions, takes plenty of breaks, protects themselves from the sun and heat and is water wise.
While many of us will be with our family and friends, we also think of those who are on their own and perhaps not able to experience the joy of Christmas. We also think of and pay tribute to those who serve our nation in the defence forces and are on deployment, and to those rostered to work over Christmas as police, fire and ambulance officers. They give up their precious time with their loved ones to protect and keep us safe. In between the last morsel of Christmas ham being consumed, the end of the Boxing Day Cricket Test and the lighting of the New Year fireworks, I hope that everyone in the Riverina electorate can take the time to reflect on the year that was. It was a tough one for many in terms of flooding and natural disasters, but it was also a rewarding one for others and the many achievements it delivered.
I am glad, as the re-elected Federal Member, to have been able to celebrate the many accomplishments of individuals, communities and small businesses and witnessed the goodwill and kindness shown to others throughout the difficult times this year. My wife Catherine and I extend our best wishes to all for a Happy Christmas and a successful 2017 and again encourage everyone to stay safe, make good choices and remember the reason for the season.