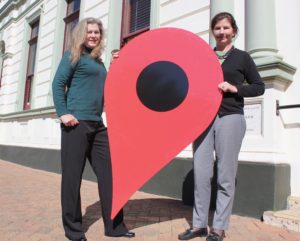 Are you happy with your online profile as a small business operator? Set next week Tuesday aside as there will be a free work- shop in Forbes that is all about boosting your internet profile in the online map services of Google, Apple and Microsoft.
"It is all about claiming your placemark on online maps," said Geomancia's Managing Director, Angela McCauley, who is present- ing the Building the Digital Economy workshops in Forbes and Dubbo.
She said not many business owners real- ised they could claim the placemark which pops up when you do a Google search for a business. "By claiming the placemark you can add more information, such as business hours and upload photos. This would give you much better search results."
The workshop is for two hours and during the first hour Angela will focus on changes in consumer behavior and the transforma- tion to the digital world for businesses. The second hour will be a hands-on session where participants will start building a web presence. If you are already on the web, you will get tips on how to lift your search results.
If you cannot make the workshop in Forbes, the Dubbo workshops are on 30th and 31th May. Google "Geomancia Digital Economy" for more information or see page 2 advertisement.