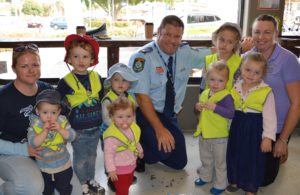 A line of seven toddlers walked into Wholesome Blend on Tuesday morning to enjoy their 'Coffee with a Cop'! For the second year in a row young and older turned up for an opportunity to 'tackle' the Police with their questions and concerns, or to just have a relaxed yarn about all matters police.
"We just want to listen," said Senior Constable Daniel Greef. "We are not making any speeches today. This is not a volatile situation, and it is just nice to have the time to do it."
As the coffee shop buzzed with conversation, Daniel said many people had questions about Police work. "They have seen police shows on TV and want to know how it happens in real life, and what the different roles are."
He said most of the feedback they had received at last year's event were very positive. "We were told to keep doing what we are doing."
Shirley Edwards of Tinker Tots Family Day Care said it was not only a great outing for them, but also an opportunity for the kids to meet the Police officers and to know who to go to for safety.
Daniel was also very happy to see the kids attend. "A lot of kids fear the Police." The Parkes event was one of 90 state wide events in NSW.