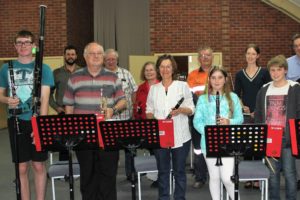 Five members of the Parkes Shire Concert Band (PSCB) will travel to Leeton this month to play at the 5th Leeton Outback Band Spectacular. PSCB members have been attending this event since its inception. December is fast approaching when the band will be performing at various events.
These are the Christmas Street Parade and the Christmas Carols. They will also do their usual December Saturday morning performances for shoppers. In January the PSCB will be leading the 25th Elvis Street Parade. If any musicians out there plan to be in Parkes for this big weekend, contact Duncan Clement if you're interested to play in the parade.
The PSCB annual community concert in September was a big success. It was the second year in a row the band invited the local Lachlan Community Orchestra (LCO), singing group Tapestry and soloist Gordon Richter on the clarinet to perform with them. The grand finale of the concert combined LCO and PSCB playing Amazing Grace with music director Duncan Clement conducting and playing the bagpipes!
Other community commitments included playing at the Christian School Spring Fete and the Classic Car Club. If you would like to join the band, contact Duncan. Rehearsals are on Tuesdays from 7 to 9pm during school term. PSCB are keen to playout more in the community, so let them know if you have an event. Contact Duncan Clement on email duncanclement@ hotmail.com or 0405 035 164.