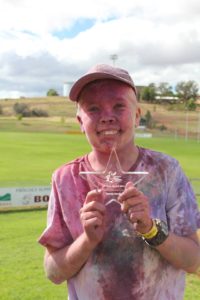 The first ever Colour for a Cure Fun Run in Parkes on Sunday was a resounding success with more than 300 people taking part.
After 5km and seven colour stations, the end product was a crowd of very colourful human beings who beamed with joy not only from having loads of fun, but also doing it for a worthy cause.
A total of $15 500 was raised for The Children's Tumour Foundation of Australia. It is a not-for-profit organisation dedicated to providing information, resources and support services to children, their famililes and adults living with neurofibromatosis (NF).
One participant, Tina Morrison summed up what many people felt: "It was a great fun filled family morning. We would love to see this an annual event as we had the best time!"
The CEO of The Children's Tumour Foun- dation of Australia, Richard Hughes who came from Sydney, praised the Parkes community for their generosity and support. He also presented an NF Hero Award to Hamish Neville (13) from Parkes who was the inspiration for the event. He was diag- nosed with NF1 at the age of six months.
By Maggi Barnard