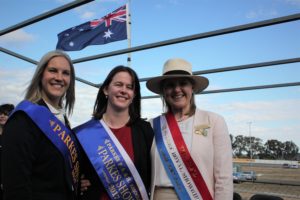 Hundreds of people flocked to the 2017 Parkes Show this week to continue making it a true community event for the 137th year! "Well done Parkes!" said Member for Riverina and Minister for Small Business, Michael McCormack at the official opening on Tuesday. "To reach 137 is truly amazing! A show like this brings out the best in people."
For Maisie Morrow, 2017 The Land NSW Showgirl and judge in the Showgirl competition, "shows let communities shine, and Parkes is a wonderful example". She was very impressed and delighted by the encouragement young people received to be part of the show.
Show President Gary O'Brien attributed the show's continued success to its "passionate committee and volunteers who work together to ensure all the elements come together seamlessly".