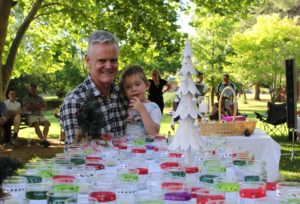 Christmas is a celebration of family and togetherness, but for some there is an empty seat at the table and a void that can never be filled. The loss of a child is an enduring grief, but there are certain times each year when that absence is felt more keenly; birthdays, anniversaries, and Christmas. Last Sunday dozens of families gathered at Lions Park for a candle light vigil paying tribute to their loss. It was a deeply moving ceremony, with meaningful readings and
rituals, providing a safe space for the kind of grief only some of us are acquainted with.
Whether they were honouring a son taken at the prime of his life, or a child born sleeping, families from across the shire united to share in their sorrow. The event was organised by the Parkes Chapter of the Compassionate Friends, and welcomed bereaved parents, grandparents, siblings, extended family and friends to pay tribute to their grief.
Families placed a photograph of their loved one on a memory tree, and were invited to take keepsake ornaments home to place on the family Christmas tree. Heartfelt credos and poems were read before the families were invited to light a candle in memory of their loved one. This alone was a poignant gesture, but the Parkes' gathering wasn't alone. All over the world Compassionate Friends gathered to light candles for their loss on the second Sunday in December. When the candles burnt out in one time zone, they were lit in another, and so flickering flames of remembrance slowly encircled the world.
At the end of the ceremony balloons were released into the sky; little bursts of colour that drifted up and disappeared into the infinite blue. The event was a touching tribute that gave families an opportunity to acknowledge their grief, together.