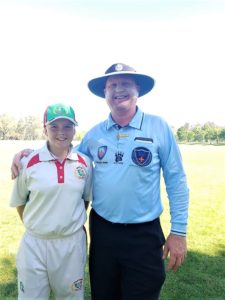 The Parkes U/14 cricket team Parkes scored a convincing 91 run victory over a keen Wellington team at a superbly prepared Spicer Oval on Sunday. The Parkes team included a good number of U/12 players who took the opportunity to extend their skills by playing with talented U/14 players.
The scores were: Parkes 8/194 in 40 overs – Joseph Tanswell 75, Hunter Hawke 38, Jack Milne 23, Flynn Thompson 13 n.o, Maddy Spence 9, Isaiah Hill 2/29 off 8 overs, Nate Bradford 2/21 off 4 overs, Lachy George ½ off 6 overs.
Wellington 10/103 in 37.2 overs – Lachy George 23, Amali McNeil 18, Zeke Heterick 11, Callee Black 11, Joseph Tanswell 3/16 off 8 overs, Maddy Spence 2/9 off 4 overs, Ryan Dunford 2/5 off 4.2 overs, Hunter Hawke 1/11 off 8 overs.
Parkes batted first to see a very positive opening partnership between Joseph Tanswell and Jack Milne. They put on 51 runs in 11 overs before Jack was dismissed for 23 with 4 boundaries.
Hunter Hawke (38 runs off 44 balls with 4 very strong fours) then partnered with Joseph in a quick fire 63 run partnership for the second wicket. Joseph (75 runs from 89 balls with 7 well struck boundaries) should be very pleased with his highest score in his young career.
After a middle order collapse, late order players Flynn Thompson (13 n.o) and Harry Kennedy (6) added quick runs at the end of the innings.
In reply Wellington lost wickets at regular intervals. Maddy Spence and Geordie Duncan were impressive in the field, while Jackson Plummer also stood out. Joseph Tanswell completed an outstanding all-round match as he produced 8 accurate overs to capture 3 early order Wellington wickets. Maddy Spence (2/9) and Ryan Dunford (2/5) chimed in to take valuable wickets.
By Greg Morrissey