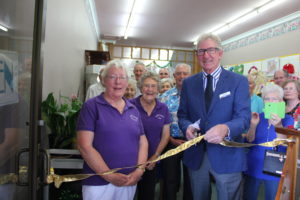 Still not on a corner after their fourth move, but happy to remain in the heart of the central business area of Parkes, the Craft Corner officially opened their new premises at 257 Clarinda Street last Thursday. "The shop looks fantastic," said Councillor Bill Jayet at the opening. "The Craft Corner committee is so resilient. They never despair,
and always look for a solution." President Rosemary Mitchell said they were happy to be able to fit everything having
moved to a smaller premises. They managed to complete the move over a weekend with many helping hands.
With the range and variety of local items and goods on offer in the shop highlighting the creative talents of Parkes, Bill said his dream was to establish a facility where all the creative groups of the town were housed under one roof including the Craft Corner, the potters, painters and everyone else.
"The Craft Corner not only attracts a lot of visitors to our town, but also generates a lot of social capital through the engagement of the community," said Bill.
With almost 100 members, the Craft Corner offers a delightful range of local goods from local produce, artworks and sculptures, hand-made household items, clothing and accessories. Pop in for your Christmas shopping – you won't be disappointed.
By Maggi Barnard