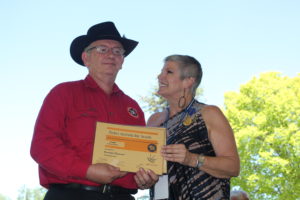 Duncan Clement is a man of many talents. The multi-instrumentalist is very proactive in the local community arts scene, but he's not one to blow his own trumpet. Which is why it really struck a chord when he was awarded the Parkes Shire Adult Cultural Award in recognition of his contribution to music in the Parkes Shire.
"It was a big surprise, I was not expecting the nomination at all," he said, "And I really wasn't expecting to get the award."
Duncan's involvement with the Parkes Shire Concert Band goes way back to 1986 when it was called the Parkes Town Band, but life and other duties led him elsewhere. He has been back for about three years, and for the past two of those he has volunteered as the music director for the Parkes Shire Concert Band, as well as for Lachlan Valley Pipes and Drums. Duncan also runs the Parkes teaching band learners group.
For Duncan music has always played a role in his life. "I had piano lessons when I was five or six years old, and then decided to learn the trumpet when I was at high school. I played music throughout school and for the HSC, and then studied at the Newcastle Conservatorium for one and a half years."
Duncan said music was reasonably accessible in Parkes, but it often competes with other activities, like sports. "Everyone should give an instrument a go at least once in their life," he said. "There's plenty of teachers around town."
Duncan works as a mechanic by day, but still manages to give so much energy and enthusiasm to local bands because it is something he really enjoys. "If you love something it's not an effort," he said.
By Raen Fraser