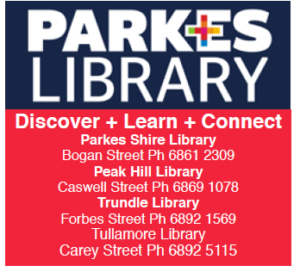 Albert Einstein said: "Curiosity is more important than knowledge", and that is what the Parkes Library aims to awaken every August and September celebrating authors, books, science, art and creativity.
"The library team wants to re-awaken the community's sense of wonder and encourage everyone to let curiosity lead their life," said Parkes Branch Librarian Andrea Lovell.
The 2018 Curiosity + Wonder events include reviving the old craft of crocheting, exploring the art of eco dying, learning more about the slow clothing movement and upcycling. Australian author Morris Gleitzman will be in town and science is celebrated in a range of workshops.
Storytime will also be held on Saturdays during September, while the Shire's students can look forward to Morris Gleitzman sessions and the Fizzics Education interactive science workshops and shows.
Curiosity + Wonder will conclude with the annual Parkes Fun Palace on 22nd September! The global Fun Palaces movement believes in the genius in everyone, in everyone an artist and everyone a scientist, and that creativity in community can change the world for the better. Look out for the Adventure Quest and trash percussion sessions.
Bookings are required for the majority of these events, with a cost for some. Call Parkes Library on 6861 2309, and visit www.parkes.nsw.gov.au.for further information.