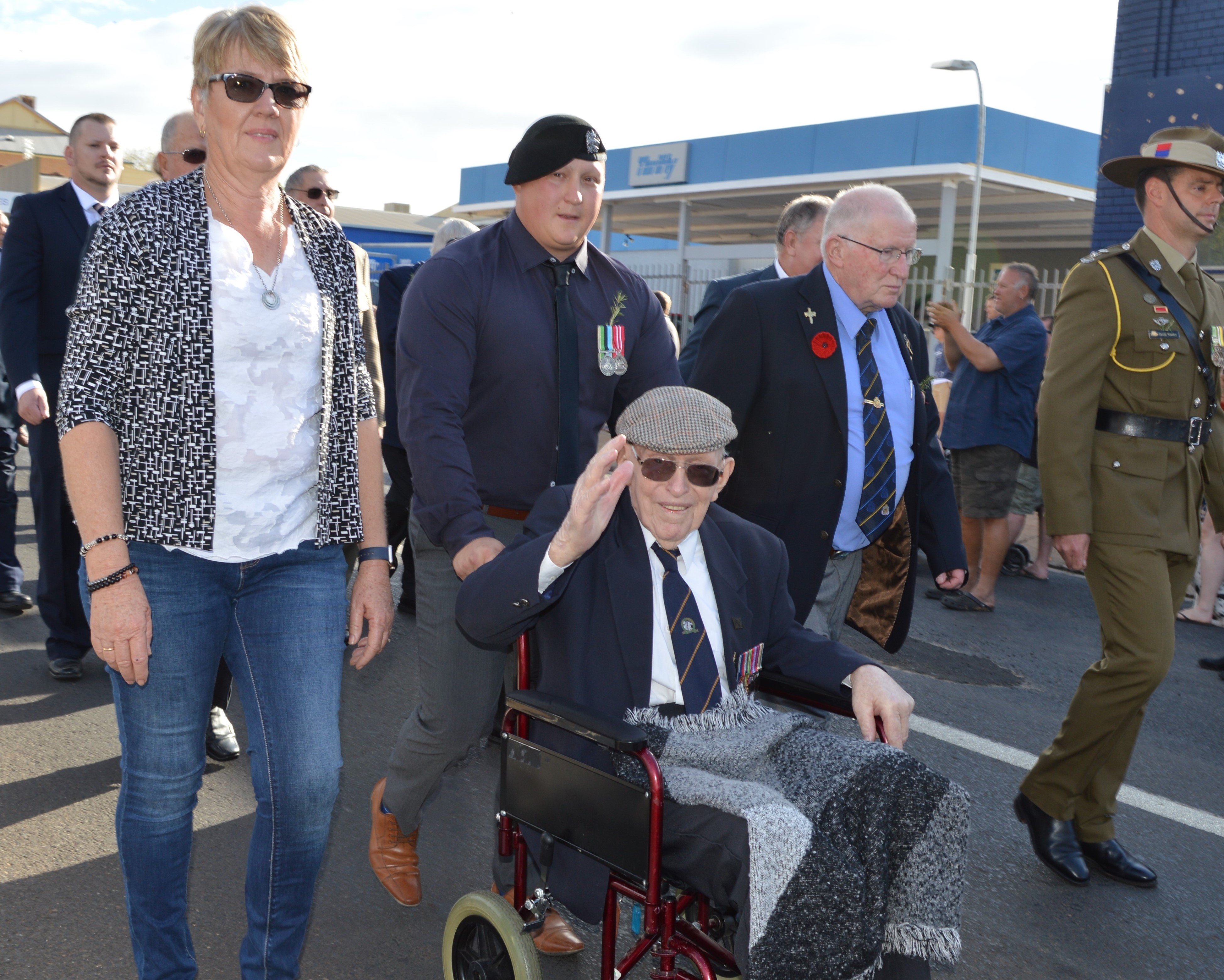 Hundreds of Parkes residents turned up for the annual Anzac Day March led by 97-yearold World War II veteran Thomas Forrester.
Tom, accompanied by his daughter Narelle Sunderland, was pushed in his wheelchair by Corporal Craig Cole and joined by the official Anzac Day special guest Lieutenant Colonel Dave Heatley. The Parkes Shire Concert Band set the pace for the rest of the procession of ex-servicemen and women and their relatives, and a good number of students representing seven schools, as well as other community groups.
The younger generation also featured when the Parkes East Public School captains, Will Rix and Daisy Dawson, and the Parkes High School captains, Ethan Pay and Becky Wright, addressed the civic commemoration in Cooke Park.
Lieutenant Colonel Dave Heatley specially thanked the students for embracing Anzac Day. "It will become part of your responsibility to continue this into the future," he said.
"Today is a special day for our country as we remember those who served in the Australian Defence Force. It is also a day of thanks and quiet reflection on what a lucky country we live in," said Dave.
"In a perfect world there would be no wars, no aggression and no requirement for a defence force. Unfortunately, this is not the case and we need to preserve peace in our region and elsewhere in the world."
Dave, who joined the army after completing his schooling at Parkes High School in 1982, said some people say Anzac Day glorifies war. "But veterans will be the first to say that their greatest wish is that their children and this nation never have to witness the horrors of war again. We commemorate this special day to reflect on our freedoms that had been hard won and to recognise
the futility of war."
By Maggi Barnard