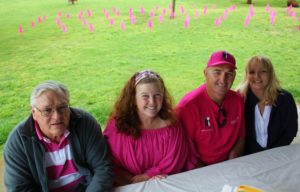 Dianne Green not only works as a McGrath Breast Care Nurse, but for the past ten years she has organised an annual charity event to raise funds for a cause affecting thousands of Australians.
The welcome rain on Sunday did not stop more than 50 people from attending the Parkes Mini Field of Women at Lions Park to show support for the women and men who have been diagnosed with breast cancer in our local community.
"The numbers were only slightly down from last year, but we still raised $440.60 with donations and merchandise sales," said Dianne. The support was great and everybody was happy for the rain." Dianne has put on the event in October every year since 2007 with the help of her family. She explains that while she gets paid to do her day job, the annual event is something she does out of her own pocket and in her personal time. "This is something from me in support of everyone affected."
All funds raised will go to Breast Cancer Network Australia, a not-for-profit organisation that supports Australians affected by breast cancer through support, information, treatment and care appropriate to their needs.
The event includes pink lady silhouettes placed on the lawn as a symbolic gesture to those diagnosed with breast cancer and all those around them. People attending are invited to write a message of support or remembrance. Forty-eight Australians are diagnosed with breast cancer every day.
By Maggi Barnard