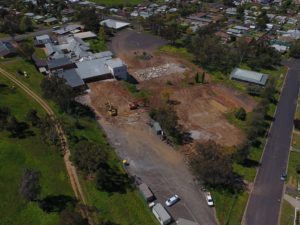 The prolonged period of wet weather hasn't delayed the progress of the old Parkes hospital demolition, with the project reaching the half way mark recently. Five out of the nine buildings have come down, with completion of the demolition well on track for mid-December.
Parkes Shire Council's Director Engineering Services, Ben Howard said: "For the second half of the project, the contractors are transporting the building material off site to the Parkes Waste Facility for crushing." There has also been a minor variation to the transport management plan, with vehicles now accessing the site via Ainsworth
Street, rather than Rose Street.
"Once demolition is complete, site remediation will begin to prepare it for redevelopment. The remediation process will see the contractors remove all the footings and underground utilities, top dress, and seed all affected areas."
The existing education centre and community health buildings will be retained for repurposing.
If members of the public have any concerns or would like more information, please contact Ben Howard on 6861 2333.