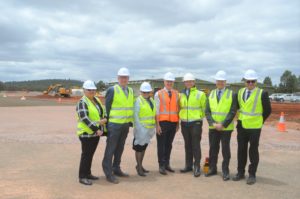 Deputy Prime Minister Michael McCormack said Parkes Council was one of the most pro-active councils in Australia when he was in town last week to get an update on progress made with two major projects. "We want more businesses to decentralise  here, not just government agencies, but also private entities."
The Deputy Prime Minister, who is also Federal Member for Riverina, first inspected the $3 million airport upgrade project where work is underway on extending the apron and taxi way expected to be completed by February next year.
"We want to make sure the 46% of international tourists who go to regional areas put Parkes on their bucket list as there are plenty of reasons for them to come here." Michael McCormack also visited the site of Phase 2 of the Parkes Recycled Water Scheme in Nash Street. He said the new plant would have many flow-on benefits for the community.
"This scheme will result in a number of positive environmental outcomes, enabling 100% reuse of water waste."
"Through the delivery of recycled water to sports grounds and public spaces, residents and visitors to Parkes will be able to enjoy lush drought-proof parks and gardens."
By Maggi Barnard