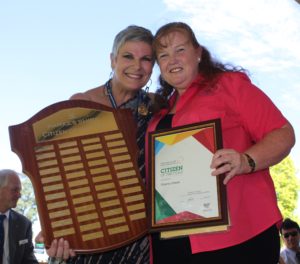 Compassionate and dedicated are two words commonly used to describe McGrath Breast Care Nurse Dianne Green. Her tire- less contribution to the community was officially recognised on Australia Day when she was named the 2017 Citizen of the Year.
Dianne offers support to breast cancer patients from the time of diagnosis to be- yond recovery, and extends this support to the patient's family and loved ones as well. Dianne said the community response to her award made her realise how many people she has supported, and just how far-reaching breast cancer is.
Her proactive approach to her role, such as facilitating support groups, and hosting and catering the yearly field of women morning tea demonstrates her extraordinary commitment and care to her clients.
"It's a traumatic time in their lives, so I want to make a difference to them, especially being so isolated out here," she said.
Although nursing is a vocation that runs in the family, Dianne's role as a breast cancer support specialist grew out of a real need within the community. When she was working as a community nurse, a number of her patients received breast cancer diagnoses, and she found she didn't have all the an- swers. Her desire to support her patients spurred her to complete a Grad Cert in 2007. Then, in 2011 the McGrath Foundation funded a breast care nurse for the re- gion, and Dianne was appointed to the role. She completed a Master's Degree in 2013.
"When I went for my Masters it was about learning to identify areas of need, it took a lot of family time away, but my family is very supportive of my work, and that makes a huge difference."
"It's a huge privilege to be able to give back to the community," she said. "I really love what I do."