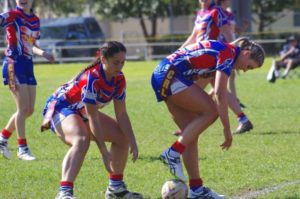 The Parkes Spacecats went into last Saturday's game against the Forbes Magpies in top position in the Group XI leader board but could not stop a determined Forbes side to go down 16 – 10. From the start the Magpies defence proved very hard to penetrate as a half time score of 16 – 0 reflected.
The Spacecats tried very hard to turn the game around in the second half, but with two tries not allowed, the 10 points scored was not enough to win. Nat Gardiner put the first points on the board with a try, with Emma Bayley adding another four and Claire Barber rounding it off with two points. Spacecats moved down a spot on the leader board, with Forbes in third position.
The two teams meet again this weekend in Magpie territory at 10:30am. Supporters are encouraged to cheer the Spacecats on to victory this time around. The team consisted of Claire Barber; Brittney Ryan; Sarah McAneney; Hannah Kelly (C); Ella-J Harris; Sally Dwyer; Demi-Joyce Winter; Katie Caldwell; Sami Afele; Emma Bayley; Sam Cox; Louise McAneney; Nat Gardiner; Emeline Lavaka; Shayna Male and Brittany Dumesny.
The Parkes Spacemen executive along with the league tag team would like to thank their major guernsey sponsor Parkes Services Club and sleeve sponsors 1. Simply Bellissima by Kim; 2. Cunninghams IGA Parkes; 3. Nicko's Bricklaying; 4. Parkes GP; 5. Bunnamagoo Wines; 6. BMJC (The Moran Boy's); 7. La Bella; 8. Dippin Dots; 9. Parkes Mensland; 10. THD Studio; 11. Parkes Railway Bowling Club; 12. Parkes Services Club; 13. Nangar Gems.