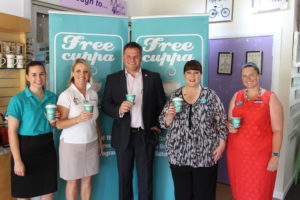 Fatigue is one of the biggest killers on NSW roads. Last year it contributed to 72 fatal crashes in the state. The 'Free Cuppa for the Driver' Scheme targets all drivers of cars, caravans and heavy vehicles to take a break. The scheme was launched last week for its latest season running from the start of March to the end of May.
The scheme offers drivers, who have travelled more than 100 kilometres from the address on their drivers licence, a free cup of tea or coffee from the 94 participating businesses in western and south western NSW. Over 6,000 free cuppas have been given away since its inception in 2010.
Drivers can use the Free Cuppa website www.freecuppa.com.au to find participating businesses near them. Eligible drivers can also enter the draw to win a prize and fuel vouchers to the value of $600. Don't be shy – just ask for your free cuppa!