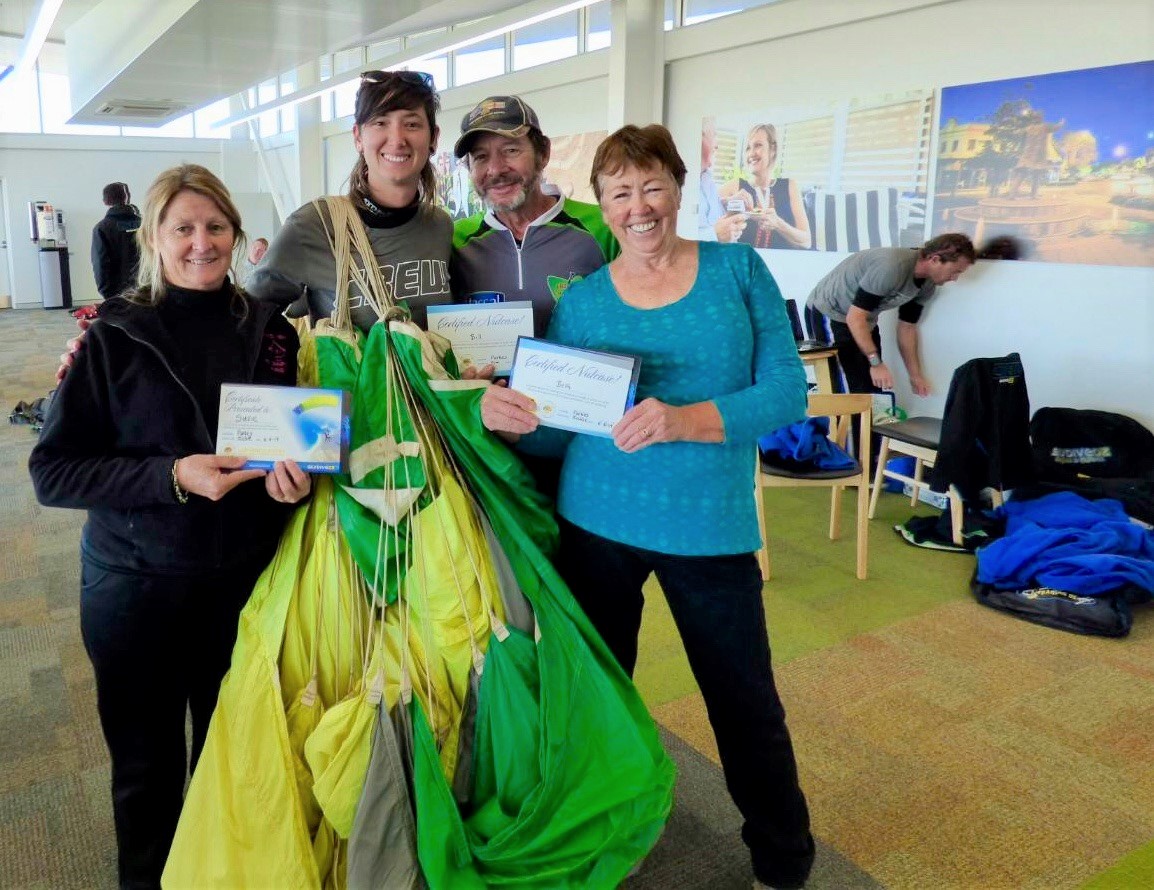 Seven Parkes locals had the experience of a lifetime last Thursday at Parkes Airport when they hurtled through the sky in tandem jumps with Skydive Oz.
Three 'crazy' members of Parkes Dragon Boat Club, Suzie Griffey and Bill and Beth Thomas, used the opportunity to raise just over $800 for their club.
What does it actually feel like to plunge from a plane at 14,000 feet? Let me tell you what the ride of my life felt like.
We arrived at the airport to the smiling faces of the Skydive Oz team. They sensed my nervous fear immediately and gave calm and relaxed instructions. We would ascend for 20 minutes to reach a height more than 4 kilometres above terra firma.
My instructor Richie, whose honest face and trustworthy eyes put me at ease, had done over 6,000 jumps. This gave me the confidence to stay and not run out the door.
We were loaded into the small plane sitting on the floor facing backwards in front of our instructor with our harnesses clipped securely to theirs. A note on the back wall said 'Relax'. I tried taking deep breaths, but they sounded more like shudders as I tried
to quash my nerves.
After what seemed an hour Richie said: "You doing OK Beth? We're half way."
Bill was beside me cool as ever giving me a reassuring squeeze now and then. Richie reminded me that when the window rolled up and we slid to the edge I was to tuck my feet under, hang onto to the harness at my shoulders, and head back – shape myself like a banana.
The window opened. The photographer flew out. Richie and I sidled along until my legs were out in the open sky and nothingness opened up before me. This was the biggest moment of fear I had ever known in all my 66 years.
Then in a flash we were gone, free falling in the most amazing minute of my life.
The rush of adrenaline, the wonder of everything around us, the sheer absolute joy.
There was no room for fear. It had totally dissipated. I spread my arms and I was flying.
After this glorious minute of free-fall, we floated for four more minutes enjoying the amazing feeling of freedom. The landing was perfect.
The glorious thing about a skydive, apart from conquering your own fear, is that you live the elation of every single, vibrant instant of the experience to the utmost.
Would I do it again? In a heartbeat!
By Beth Thomas