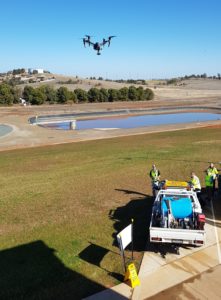 Drone technology has opened up an array of time and cost saving applications, and the Parkes Shire is welcoming it with open arms.
A number of Parkes Shire Council staff are undertaking a training course in drone operation and Civil Aviation Safety Authority's (CASA) compliance as part of a wider program to incorporate the technology into asset management and other applications.
Council's Director of Infrastructure Andrew Francis said Council has teamed with The Institute of Drone Technology for drone flight training as well as ensuring all staff trained in drone usage are compliant with the stringent CASA guidelines for Remotely Piloted Aircraft Systems (RPAS).
"All trained staff will attain their remote pilot license which is the precursor to Council obtaining its own operator's licence. We will eventually have a certified aviation management system for our drones."
The use of drones and other smart community technology will assist in asset management and maintenance as well as providing environmental monitoring opportunities for noxious weeds and other problems such as salinity.
"There are many time and cost saving applications for drones including inspection of assets at height (sporting oval lights, water reservoir covers and platforms), road conditions, flood response, geotechnical monitoring, thermal heat mapping of building roof insulation effectiveness, hydrology, water pollution, vegetation analysis as well as parks and sporting oval watering performance. The drones will also be used to monitor drainage issues and digital capture for town planning," said Andrew.
One of the key uses will be for leak detection in the hundreds of kilometres of council water mains, particularly in hilly terrain to the east of Parkes.
The marketing team will also be able to utilise images for promotional purposes.