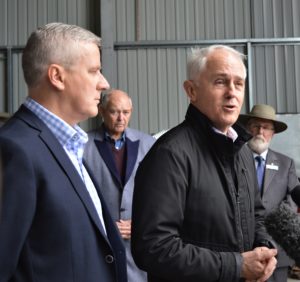 The Prime Minister was in Forbes on Sunday to announce further support for drought stricken communities. "We are making changes to ensure farmers are even more resilient, as our farmers are the best in the world," said Prime Minister Malcom Turnbull at HE Silos in Forbes.
The assistance provides immediate relief to communities, tax breaks for fodder storage and simplifying the application form for Farm Household allowance.
An additional $75 million will be given to 60 councils, of which 30 are in NSW, to address local needs. Parkes is among the councils in NSW, Queensland and Victoria which will initially receive $1m grants.
"Council will host a community forum in the coming weeks to discuss how the money can be applied for best effect across the Parkes Shire," said Parkes Mayor Cr Ken Keith OAM. "Landholders, agri-businesses and local support organisations are encouraged to attend to provide ideas and suggestions."
Further to Sunday's announcement the Parkes Shire Council made a resolution on Tuesday to activate immediate drought support measures. Councillors voted to adopt a suite of drought relief initiatives, which include immediate
access to domestic and stock water free of charge for rural residents from Council's stand pipes. Council will also investigate options for subsidising potable water cartage.
Additionally, as a small token of assistance to drought affected community members, Council unanimously supported the resolution to provide free entry to all shire pools for the coming season. "Opening our pools in Parkes, Trundle, Tullamore and Peak Hill free of charge, could serve to provide some respite from the day-to-day distress of this worsening drought," said Cr Bill Jayet.
Parkes Shire Mayor, Councillor Ken Keith OAM said while the measures were not a long-term solution, they would provide some short-term relief for our farming families doing it tough.
For information on current state and federal government relief packages contact the Central Region's Rural Financial Counsellor at www.rfcscr.com.au or phone 1800 940 404.
Any rural rate payer in the Parkes Shire seeking confidential discussions around accessing Council's hardship provision for rates can email payment.help@parkes.nsw.gov.au or phone 02 6861 2304.