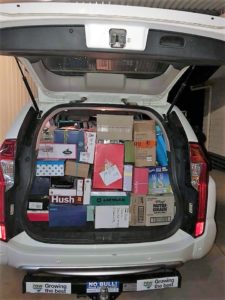 More than 40 care packages were distributed to drought affected farmers following the initiative of a Parkes woman asking for donations.
"It has been pretty amazing," said Karen White who created a Facebook page last month to ask people to donate items to make up care packages.
She said many people made up smoko packages, one woman donated $100 worth of dog biscuits and the Rural Fire Service at Forbes arrived with a vehicle loaded with everyday items, such as rice, pasta and sugar.
"We did not have enough room to fit everything in for the first drop off." Karen teamed up with the NSW Farmers Association's representative in Parkes and she took all the packages to the central distribution point in Cobar.
They have already received very good feedback from farmers. A couple who had received a package with home made fruit cakes sent a message saying, "It gave us a lift when we thought the world was against us."
According to Karen the greatest need is drinking water as many farmers' household tanks are running low. She said large water jugs or slabs of water bottles would be most welcome to farmers at this stage. "I am happy to keep going as long as there are donations," Karen said.
Go to the Facebook page Central West Drought Care Packages for more information, or drop off donations at 172 London Road or at Kadina B & B at 22 Mengarvie Street.