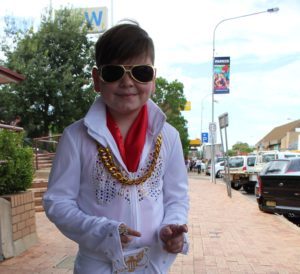 Why do thousands of people in wigs, jumpsuits and fake Priscilla eyelashes go to Parkes to swelter in 40 degree heat to celebrate the King? You can hear the answer to this question at the Parkes Library today at 6pm at the official launch of the book, Outback Elvis, The story of a Festival, its Fans and a Town Called Parkes.
Written by two long-time fans of the festival, John Connell and Chris Gibson, Outback Elvis introduces the local characters, the lookalikes, the impersonators and the tribute artists – and the town that made this big hunk o' Elvis love possible. Professor John Connell (University of Sydney) and his colleague Chris Gibson (University of Wollongong) have been attending the Parkes Elvis Festival since 2002. John and Chris will be at Parkes Library to launch their book and chat with the audience about why they researched and wrote Outback Elvis.
Apart from attending the Elvis Festival, John and Chris have published a large body of work on music festivals in Australia. Both are geographers: John is professor of geography at the University of Sydney; and Chris is a professor of human geography at the University of Wollongong and a musician. Their co-authored books include Music
Festivals and Regional Development in Australia (2014), Festival Places (2011), Music and Tourism: On the Road Again (2005) and Sound Tracks: Popular Music, Identity and Place (2003).