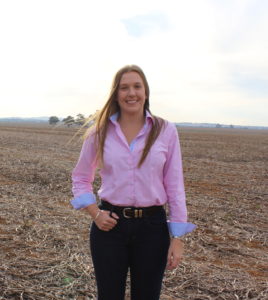 Tullamore local Emily Walker has been awarded a 2017 Horizon Scholarship to support her studies in Agriculture at Charles Sturt University (CSU).
The Horizon Scholarship is an initiative of the Rural Industries Research and Development Corporation (RIRDC), and recognises students for their leadership and commitment to the future of Australian agriculture.
Emily was one of 15 students to be granted a scholarship from a pool of over 150 applicants. She will receive $5,000 each year while she completes a Bachelor of Agricultural Business Management at the CSU Wagga Wagga campus.
Emily said agricultural business was exciting because it provided the challenge of helping others and researched new ideas to improve areas within the industry.
"I have a strong interest in agribusiness because I believe that, in order to be successful in the agricultural industry, financial stability and management must be maintained," she said.
"I am also rather interested in the cropping industry, particularly in regards to wheat because it is a vital food source for the world and like many industries is in need for continuous growth and development in order to provide for the growing population of the world."
Emily's career goal is to work alongside others in the agricultural industry to increase its success, profitability and sustainability, and she sees the scholarship providing many opportunities for her to develop her skills and connections.
"I feel extremely fortunate and am very excited to be involved in this amazing experience with the opportunity to improve my skills, develop connections within the agriculture industry and increase my first-hand experience," Emily said.
RIRDC Managing Director, John Harvey, congratulated all of the scholarship recipients.
"These scholars are tipped as our brightest young leaders and are the one to watch when it comes to shaping the future of Australian agriculture."