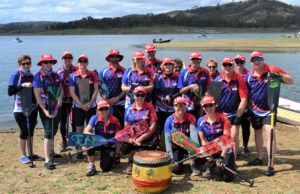 After four months of training, the newest sports club in Parkes stepped out in club colours for the first time to take on a formidable challenge. Eighteen members of the Parkes Dragon Boat Club put up their paddles for the Mudgee 20km challenge held at Lake Windermere recently.
A total of three boats took part in the inaugural event organised by the Mudgee Dragon Boat Club with paddlers also from Dubbo, Orange, Bathurst, Forbes and Illawarra. The Endeavour Dragons took to the water with nervous excitement and remained focused even when the conditions turned blustery with very choppy waters whenever ski boats passed by.
"We rode some rough water at times but everyone remembered the drills we went through at training with Coach Warren Edwards, and that powered us through with style," said President Bill Thomas, who steered his team safely through the tough conditions as sweep.
Bill was very happy with his mostly novice crew's first performance. "The jubilation on everyone's faces getting out of the boat told the story," he said.
The Endeavour Dragons have started preparing for their very first race in Bathurst next month, the Western Region Regatta. New members are always welcome to join the Parkes Dragon Boat Club, or to just come for a try out at Lake Endeavour.
Summer time sessions are on Thursday 5:45pm for 6pm on the water, and Sunday at 8:30 am for 9am on the water. Contact 0418 253 045 for more information.
By Maggi Barnard