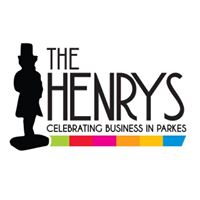 The Henrys – Parkes Business Awards is generating a lot of interest and is set to become a major annual event on the Parkes calendar with the launch of brand new categories, a new independent judging system and new modern branding.
The Parkes Chamber of Commerce awards sub-committee has been determined to invigorate the business awards to
become a much easier, more relevant and more encompassing to cover all industries and individuals in business.
The aim is to allow every Parkes business and businessperson the platform to not only receive local recognition, but also the opportunity to move forward as an award winner to regional and state awards.
The awards are aligned with the NSW Business Chamber so all judging will be facilitated by them with independent judges overseeing the nominations and deciding on the winner in each category. The online entry system and judging process is totally removed from the local level allowing complete confidentiality and impartiality throughout the whole process.
Nominations close on 23rd August; enter online at http://www.businessannualawards.com.au/loginchamber=parkes
Enquiries to Chamber@parkeschamber.com.au or through the Facebook page: The Henrys – Parkes Business Awards. The gala black tie awards presentation event will be held in Parkes on Friday, 20th October.