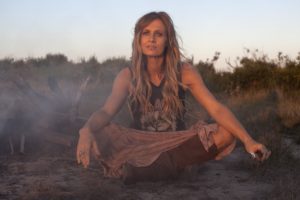 There is something special sitting around a campfire, but sharing the experience with Australia's country superstar could be extraordinary. This is exactly what Parkes residents will encounter tonight when Kasey Chambers is at the Parkes Services Club with her Campfire tour.
The Aussie country icon is just over halfway touring the country since the release of her 12th studio album in April. "I haven't been to Parkes for a long time and is really looking forward to the show," Kasey told The Phoenix earlier this week.
"We are mostly doing old songs and including new ones form the album." She said the audience should expect a real
campfire atmosphere as she and her band, The Fire Side Disciples, use acoustic instruments. "A lot of my songs work acoustically, so it was not a huge stretch to make the change. That is how they all started any way," she said.
Making the tour extra special for Kasey is her dad Bill Chambers, a Golden Guitar Award songwriter, who also plays in the band. "He gave me an unusual childhood growing up around campfires and was the inspiration for the album. We share so many stories."
Kasey grew up on the Nullarbor Plain and the tiny fishing village of Southend, South Australia. They were touring as a family band, The Dead Ringer Band. With the 20th anniversary of her debut album The Captain Turns coming up next year, Kasey said she always wanted to make this record and it was the right time to strip back to the sounds she grew up with.
She realised another dream on the Campfire album doing a duet with her childhood idol Emmylou Harris. "She is probably the voice I heard the most growing up. She has been a great influence on me and doing a duet with her on my album made me so happy. It is so incredible that I've had the opportunity to work with so many of my idols. It is such a thrill."
Living such a busy life, the campfire is a place where Kasey feels she can be present in the moment. "Sitting around a
campfire is one of those places where you never wish you were somewhere else. It is the perfect place to be in the moment.
"This is what we are creating with this gig and I hope everyone will enjoy it like they would sitting around a campfire."
By Maggi Barnard