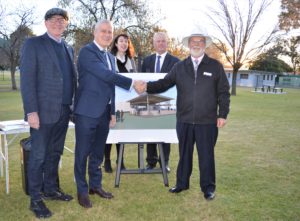 It was a big week for Parkes and it kicked off on Monday with the good news of a multi-million dollar grant to reinvigorate the CBD. Member for Riverina and Deputy Prime Minister Michael McCormack was the bearer of the news delivering more than $4.2 million towards an upgrade of Clarinda Street and a multi-purpose centre to
be constructed in Cooke Park.
The project, at a total cost of almost $8.5 million, will re-develop southern Clarinda Street with footpath upgrades, lighting and smart technology, street furniture and green areas to feed into Cooke Park to the new multi-use function and event centre.
"Congratulations to the Parkes Shire Council on its progressive attitude," said Michael. "It is a great town indeed and will only prosper into the future looking better, prettier and more attractive for tourists and locals. It is money well spent."
Parkes Mayor Ken Keith OAM said the project followed on from the CBD vibrancy strategy with "community groups screaming out for cultural facilities". He said the new multi-purpose centre would not only provide a new and professional stage for the Elvis Festival, but also attract more cultural events to town and create new events, while the development of lower Clarinda Street would encourage business opportunities.
The multi-purpose centre will replace the current community hall in Cooke Park. The project is expected to be completed in two years' time.
By Maggi Barnard