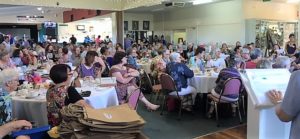 It is not often that women in Parkes can attend a fashion show, purchase the garments straight after and help further a very worthy cause. Last Saturday about 140 women enjoyed a wonderful afternoon at Anglicare's Fashion Affair at the Parkes Golf Club and raised around $5,000 for the very important service Georgie's Pantry perform in our community.
A total of 990 garments were donated after the closing down of the Somerset Lane stores in Eugowra and Molong. Around 300 garments were sold on the day with the remaining stock now available at Georgie's Boutique in the main street.
"It was an overwhelming success and we really appreciate the support of the community," said the Manager of Anglicare in Parkes, Natalie Quince. "The event has been of incredible benefit to our community as it allows us to continue to operate the pantry."
She said Georgie's Pantry, a sustainable food relief agency, experienced a 100% increase in the use of its service this year from 800 to 1,600 customers. The pantry sells a basket of pantry food and/or a tray of meat for only $25. Customers also receive fresh fruit, vegetables and bread free of charge bringing the estimated retail value of the food to approximately $200. The pantry also offers free food for farmers every Friday.
According to Natalie the pantry receives 12 tonnes of donated food from Aldi and Woolworths annually. In addition, the pantry spent $40,000 last year on purchasing items from local supermarkets, a local butcher and from Foodbank in Sydney.
There are according to the Foodbank 2018 Hunger Report 4.5 million Australians who went hungry over the last year
of which 1.5 million are in rural and remote Australia. If you would like to support this vital service in our community with a donation, visit Georgie's Hub on Facebook or contact 0411 763 448.
By Maggi Barnard