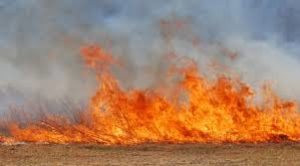 Due to the an increased risk of grass fires this season across the Central West, the NSW Rural Fire Service (NSW RFS) is urging landholders to take action to prevent fires from starting. Superintendent Ken Neville from the Mid Lachlan Valley Rural Fire Service said fires could easily start from machinery. "It can take just one or two sparks to start a fire," he said.
"That's why it's so important to check and maintain equipment such as tractors, slashes, harvesters, welders, chainsaws and grinders. "If you're carrying out agricultural burns or outdoor mechanical works make sure you check if there are any restrictions or fire bans in place. Check all firefighting equipment regularly, including hoses and
pumps."
If a fire starts, call 000 as soon as possible. Landholders are also encouraged to make a bush fire survival plan, with a guide available from myfireplan.com.au. For further information call the Mid Lachlan Valley RFS on 02 6851 1541.