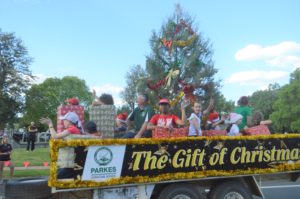 The streets were lined with masses of people, the floats sparkled in the late afternoon sun and an air of excitement prevailed as the annual Christmas Parade set the tone for the festive season in Parkes last Friday.
The 30 float entries, including two ponies, the Rural Fire Service and a dragon boat, and 300 plus students marching for their schools created an ocean of Christmas colours as the procession flowed down the street cheered on by the crowds.
Some people remarked it was the biggest crowd seen in Parkes after the Elvis Parade in January each year.
"It was an outstanding success," said Peter Guppy of Parkes Action Club, who organises the parade. "The Action Club
would like to thank everyone who put a lot of effort into their floats."
Geoff Rice from the Parkes Chamber of Commerce, who judged the float entries, said they were all of a high standard. The TWW $300 voucher for best business float was awarded to McPhersons, and the school prize of $100 went to Parkes Christian School.
The Action Club also thanked the SES for doing an excellent job of crowd control, and the students for their exemplary behaviour. "The Parkes community is to be congratulated for supporting the parade and enjoying this great community event," said Peter.