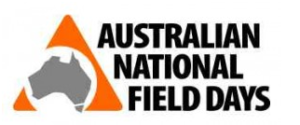 The very first Australian National Field Days (ANFD) at Borenore were celebrated 66 years ago in 1952 – as a one-day event only. "We are committed to advancing Australian agriculture and we're always looking for new and innovative ways to do that, whether that be through utilising new technology and social media, or simply moving part of our event to a weekend so people who work off-farm can attend," said Administration Manager Jayne West.
A big key to this year's event is ensuring that there is something on offer for the whole family. There will be entertainment for everyone with music playing throughout the day from Mickey Pye, Casey McFarlane and The
Hewitt's. There will also be a jumping castle, camel rides and a high adrenaline action show from Flair Action Riders.
This year's feature exhibit is one to be enjoyed by all, the Australian Stock Horse Society. They will be conducting talks throughout the three-day field day about their importance to agriculture and will inform the public about products and services they may not have known about.
"Livestock and grazing are very important here, and we are on the fringe of a very large cropping area. There's a lot of horticulture in the region with apples and cherries and viticulture is another area rapidly growing," said Jayne.
The Australian National Field Days will be held from Thursday, 26th to Saturday, 28th October 2017, at 563 Borenore Road, Borenore. Gates will open at 8:30am and close at 5pm over the three days. A full program is available online.
To all our Phoenix readers, don't forget to enter our competition to go into the draw to win a double pass to the ANFD.