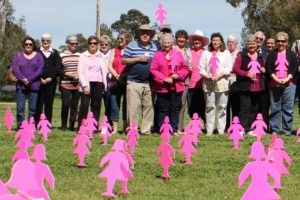 Lions Park went pink last Sunday as locals gathered for a free morning tea to show their support for women with breast cancer. Dianne Green, the McGrath Breast Care Nurse for the Parkes region, hosted the morning tea. This was the eighth Field of Women event that Dianne has organised to show her support for her clients, their families and the community. She catered for the morning tea with the generous help of her family, who also volunteered their time to help serve the dozens of people who stopped by to have a cuppa and a chat.
Dianne said people attended the morning tea for a variety of reasons. Some came to remember lost ones, others wanted to show their support, and others might have had personal experience with breast cancer. One hundred pink lady silhouettes stood on the lawn as a symbolic gesture to the women diagnosed with breast cancer and all those around her. Attendees were invited to write a message of support or remembrance, which were then placed around a
silhouette.
Dianne said at the end of the day she'd read every single message, before neatly packing them away for the next year. "They're beautiful heart-felt messages, and some of them make me cry," she said. The carefully collated messages from the previous seven years were also on display. According to the Cancer Council statistics 16,000 Australians will face a breast cancer diagnosis this year. While the vast majority are women, the disease can also affect men. It is important to see your doctor if you have any concerns.
The McGrath Breast Care Nurses provide free physical and emotional support for families who are affected by breast cancer from the time of diagnosis and throughout treatment. For more information visit www.mcgrathfoundation.com.au
By Raen Fraser