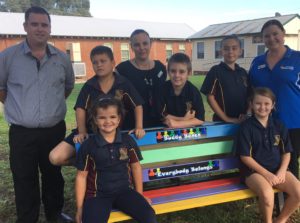 Simple ideas are often the best, even when it comes to making a tough school playground friendlier. The buddy bench is one such idea to promote inclusion and friendship. Thanks to the Buddy Bench Initiative of the Currajong Autism & Special Needs Group primary schools in the Parkes Shire have received a buddy bench each last week with
the help of the John Holland Group.
Peak Hill Central School was the first to install their bench, donated by Forefront Services. "It is a fantastic idea and the kids enjoy using it," said Assistant Principal, Sarah Browning. According to Deb Collier and Angela Wilson, facilitators of Currajong Autism & Special Needs Group, the initiative started early last year as a dream to provide a buddy bench for every primary school in and around Parkes.
"When Warren Monks of John Holland heard about our dream, he gave his employee Jodie Goonrey the huge task of
finding local businesses and suppliers to donate benches." It was a huge team effort with Whitney's Welding & Bobcat Hire building 10 originally-designed, double-sided benches; members of the group hand-painting the
benches TTT Signs providing the signs and donation plaques.
The buddy bench is a place for kids to sit, and send out a visual signal to other kids that they would like friendship, or somebody to play with. This visual signal makes children conscious of this, and is usually enough to prompt them to extend a hand.
By Maggi Barnard