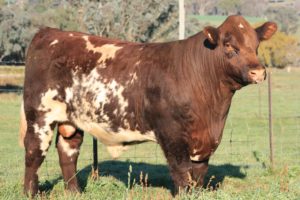 Shorthorn Central will be holding its first ever on-farm shorthorn bull sale on Thursday, 8th September at Chindwarra 381 Thurungle Road, Forbes. Shorthorn Central Bull breeder Trent Johnstone said having the sale on the farm would benefit buyers more than having it at the livestock exchange. "I think we will have a better atmosphere by selling our bulls straight from the farm, and buyers will be able to view the bulls in their own comfort zone," he said.
"It saves us the time to transport all of the bulls from the farm to the exchange, and it allows buyers to see where and how the bulls have been bred. This can be important as well." Forty bulls from six different vendors will be auctioned at the sale, which starts at 1pm on the day. Trent said he expected prices per kilogram to remain above average as it has been to date.
All Shorthorn Central bulls are grass fed. "These bulls are commercially orientated, easy going and they have the ability to fatten and marble off grass," he said. "Our bulls are very balanced, they have high carcass and maternal profitability and all bulls have been vaccinated with 7 in 1, Pesti ,Vibrio and are semen tested, ready to go to work."
This year has been a very exciting time to be involved in the shorthorn breed and their crosses. With the launch of the JBS Thousand Guineas branded beef product, all breeders of shorthorns and crosses (75% minimum) are afforded a premium over all other breeds and now on parity with Angus. An invitation is extended to all attending the sale to partake in a Thousand Guineas Steak sandwich courtesy of one of the sales major sponsors, ANZ Bank. For all enquiries call Trent Johnstone on 0438 522 198.