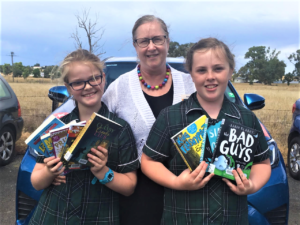 The Parkes Library has appointed two young ambassadors. Trialling this new concept with the Parkes Christian School, Anabelle van Wyk and Addison Lewer were selected from eight applicants. They had to write a paragraph on "I would make an excellent ambassador because…".
Parkes Shire Library Branch Manager Andrea Lovell said the applications were all of a very high standard. For the next six months Anabelle and Addison will wear an official badge and their job will be to raise the profile of the library at their school. They will also receive a newsletter of items they will need to communicate to their fellow students. A fun task will be to help select new books ready for shelving to promote at school, and to help with book selection when the book sellers visit Parkes Shire Library.
"I feel very excited and extremely honoured to represent the library," said Addison. "I want to encourage more kids to go to library activities during holidays and to get more of them READING," is Annabelle's aims.
"When we get this program fine-tuned we hope to roll it out to other primary schools in Parkes " said Andrea.