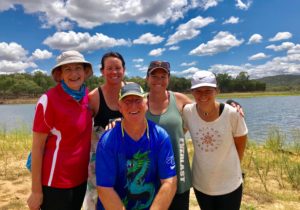 The eight-month old Parkes Dragon Boat Club keeps on paddling forward with five of its members selected to represent Western NSW at the National Dragon Boat Championships this year. Warren and Donna Edwards, Rochelle Smith, Linda Snyman and Maggi Barnard have been training hard under State coach Louise Linke and assistant coach Deb Clarke in preparation for the national championships in Canberra on 20th April.
Club President Bill Thomas congratulated the members saying: "We are all so proud of you."
As part of its preparation the team took part in a regatta against the top ACT teams on Lake Burley Griffin in January winning second place in the 2km race.
The Western squad consists of members of six other clubs in the Central West and mostly trains on Ben Chifley dam at Bathurst.
This year training sessions have also been scheduled at Lake Endeavour to use the Parkes Dragon Boat Club's tens boat. The first session took place early this month with a second one scheduled for next weekend. The Parkes Dragon Boat Club squad members will join their club members at the Jindabyne Flowing Festival this weekend to compete in a 2km race on Saturday and 200m races on Sunday.