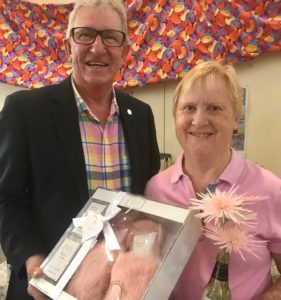 The 2018 St Georges Flower Show was a miracle to behold. "The prayer for rain is yet to be answered, but the flowers on display last Saturday were remarkable," said organiser Norma Garment. The Anglican ladies served more than
150 people morning and afternoon teas surrounded by six tables filled with top quality flowers.
With about 100 entries, the system of people's choice voting made it easy to pick the winners. Chris Krute's pink Spider Gerbera got the highest number of votes with Tony and Heather Horsington's roses coming second. Marg Klien donated the prizes. Roses also stole the day with Ray Knight's entry receiving many votes, as well as an amazing White Gerbera entered by Joan Rauchlie – each receiving gifts for best single specimen.
Councilor Bill Jayett, who presented the prizes, was delighted to see so many entries. He presented a Bill Jayett Award to a big pink double Gerbera entered by Joan Rauchlie.
According to Norma a lot of fun was had guessing the weight of the pudding donated by Shirley Edwards, with Hazel Quary taking home the 2.5kg pudding. Guests could guess Shirley Westgarth favourite teddy bear, and Bev Bokye is the new proud owner.
The day started off with the Parkes Shire Concert Band playing some flowery tunes. "We are absolutely delighted," said Norma and explained the money raised would go towards installing air conditioning for the church hall to make it more comfortable for the different groups using it.