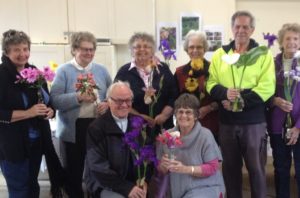 After such a dreadful storm last Friday evening, the St George Flower Show and Market offered a burst of colour to lift everyone's spirits. Behind every event organised in Parkes is a great group of people who make it all happen. The cheerful volunteers at St George were no exception, working hard to ensure the flower show was a blooming success.
While the storm might have shaken a few branches, the unusually wet winter and spring certainly benefited the blooms. The Irises climbed to heights unseen for many years, and roses were the best they have been. Southern Cross displayed a beautiful range of roses, and the Red Bend Catholic College picked the finest from their college
garden. The winner of the Peoples Choice for the single bloom was Lucinda Auld. Her grandmother Margaret McMillan proudly accepted it on her behalf.
Mavis Moon was delighted to receive first prize for her collection of flowers with a bouquet of Double Delight Roses.
Alliance Pharmacy kindly donated the prizes, and the winners were thrilled by the lovely assortment of goodies. Discount Dave's sponsored the lucky door prizes, which added to the fun on the day. Attendees were treated to a delicious tea provided by the Anglican Ladies. Vivian, Heather and Mavis were run off their feet as the demand for cakes and lamingtons was great.
The market stalls offered something for everyone, with a range of crafts and gift packages on offer and the Trash and
Treasure gave shoppers a chance to find an unexpected gem. Lorraine Chambers and her helpers had a plant stall that went on and on all day.
By Norma Garment