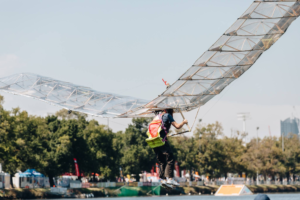 The Parkes Christian School's flying machine travelled some 750 km to Melbourne to enter the Moomba Festival Birdman Rally, but it was the last few metres of its journey that made the trip worthwhile.
On 11th March the glider sailed to victory with an 11m flight along the Yarra River, winning the Hawk trophy for the longest distance.
The Parkes Flyer was the work of design and technology students. Teacher Jason Wynstra said the project has massive educational benefits. "On top of the maths, science, and engineering that is involved in the design process, the students also worked with community groups."
The glider was constructed with donated materials, such as bamboo and window film. Phil Seeley of the Sport Aircraft Asso- ciation of Australia piloted the craft. David and Wendy Richards were key collaborators, and Neil Unger provided transport to Melbourne.
The Parkes Flyer was the school's second entry into the Birdman Rally, and bet- tered their 2015 third placing.
The fledgling aeronautical engineers are in years 11 and 12: Madelynne Capple, Ethan Peters, Elly Collins, Nicholas Strudwick, Michelle Mulligan, William Thompson, Mitchell Day, James Simpson and Oliver Gregson have a new feather for their caps.
But it's not all about the glory – the event is a charity fundraiser, and the team raised $2,100 for the Juvenile Diabetes Research Foundation of Australia.
The students will continue to aim high, with plans to continue their winning streak next year.
By Raen Fraser