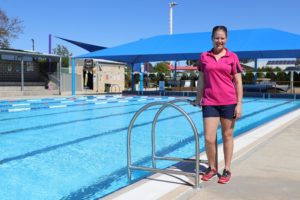 Parkes Shire lifeguards are expecting their busiest pool season to date with all Parkes Shire pool facilities offering free entry this summer. Parents and carers are reminded to keep a close watch this summer and know the
pool rules ahead of the Parkes pool opening tomorrow (Saturday) and the Township pools on Saturday, 3rd November.
"To enable us to keep track of how many people are using the facility, we will be asking everyone to sign a register at the gate this year," said Parkes Shire Aquatic Coordinator, Nicole Thornhill.
"We will also be closely monitoring the bather load at each of the facilities. If we reach the maximum number, we may ask swimmers to hop out of the water temporarily to ensure we maintain a safe supervision ratio."
Parkes Aquatic Centre will be running free introductory water safety lessons and child capability assessments for children under the age of 5, during Learn2Swim Week 2018, for the first time.
The Learn2Swim Week lessons will run from Tuesday, 2nd October until Friday, 5th October, between 1 and 3pm daily. Lessons run for 30 minutes and aim to educate parents on the importance of teaching children under five to swim, and the importance of water safety.
To register your child for their free Learn-2Swim lesson, contact Parkes Aquatic Centre on 6862 6206. Council's regular Learn to Swim program commences Monday, 29th October. To enrol your child in the Learn to Swim program, download and complete the enrolment form on Council's website www.parkes.nsw.gov.au